Best Pepe The Frog Meme Wallpapers in your Chrome Browser!
Pepe The Frog Meme Wallpapers and 
Pepe Themes 
for a unique and fresh browsing experience!
We present you an extension with cool widgets and many great things to read about the topic. Feel free to share with your friends!

Pepe the Frog is an anthropomorphic frog character from the comic series Boy's Club by Matt Furie. On 4chan, various illustrations of the frog creature have been used as reaction faces, including Feels Good Man, Sad Frog, Angry Pepe, Smug Frog, and Well Meme'd.
Origin

In 2005, artist Matt Furie created the comic series Boy's Club, which stars the teenage monster characters Pepe, Brett, Andy and Landwolf.
In early 2008, comic in which Pepe pulls his pants down to his ankles in order to urinate is rumored to have been popularized on 4chan's, (random) board, along with the expression "Feels good man."
[adrotate banner="6″]
Here are some types of Pepe The Frog with his various 'moods':
Sad Frog
Sad Frog is an illustration of a depressed-looking Pepe, often accompanied by the text "Feels Bad Man." It is used to denote feelings of failure or disappointment, either by posting the image or using the phrase "feelsbadman.jpg."
Smug Frog
Smug Frog, also known as Smug Pepe, is a reaction image of a smug-looking version of Pepe (shown below).

Angry Pepe
Angry Pepe, also known as Angry Frog, is a reaction image featuring a hostile-looking variation of Pepe. The image is often accompanied by expressions of rage and intense frustration.

Rare Pepe
Starting in October 2014, /r9k/ users began submitted posts to share "rare" images of Pepe as if they were trading cards. On March 28th, 2015, a thread was submitted to /r9k/ about collecting Rare Pepes in order to "flood the market" and depreciate their value. On March 31st, a /r9k/ user posted an imgur gallery with over 1,200 pictures of Pepe. In the first week, the gallery received more than 260,000 views. In early April, the collection of Pepe image were listed on eBay, which reached a price of $99,166 before being removed from the site.
On April 3rd, the Internet humor site Smosh published an article about the rare Pepe images, which subsequently began to appear on other sites like Reddit and Tumblr. By April 9th, there were over 230 "rare Pepe" listings on eBay.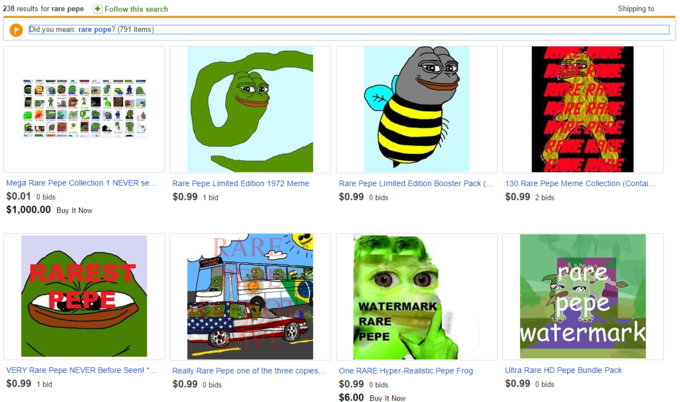 Read more about Pepe here.
[adrotate banner="6″]
Now back to why you are really here. This great extension is free and suitable for all ages. We have added cool features to this Pepe The Frog Meme wallpaper extension, which will make your browsing experience more fun and adjusted and suitable for all your needs!
 This item is available in Chrome Store and just by clicking at the Add to Chrome button you will install the extension.
|Start customizing your browser according to your needs and enjoy the free widgets with all your favorite wallpapers and backgrounds. Many choices are upon you, so you will be able to pick your favorite wallpaper as a default one or you can leave all as it is by resetting the picks. This extension provides more than 200 Wallpapers because we change them all the time. Show/hide elements while playing with your browser and play some games while you are at it.
[adrotate banner="7″]
Extension Features
Local time and weather option
Pepe The Frog Meme Wallpapers extension shows you the exact time and location wherever you are.
Bookmark
Bookmark your favorite website and quickly access recently seen and saved websites

[adrotate banner="7″]
Pick your favs
Click the heart button and choose which wallpapers and backgrounds you will see while browsing. If you like them all or decide to shuffle them again, just click on the 'Reset Picks' button. Actually, it is pretty simple: shuffle with our randomizer, or select your favorite wallpapers from many available within our extension. We will make sure to frequently update the extension with fresh new wallpapers and if you have suggestions, leave us a comment in the comment section.
Newsfeed and facts
These two separate options are popular among our users. We provide newsfeed, quotes, and facts similar to the topic you've installed. You can ofcourse disable these in the settings and you can also click the 'x' sign and do it manually. If on the other hand, you get interested in some good news and amazing facts, we've got a lot. Also, feel free to share!
Games
This is our favorite we have to say. There are many, many games, which you can play while you are browsing, for free of course!
Extension Features Category
This extension covers major categories similar to the topic and subject, following but not limited to:
Pepe The Frog Meme
HD Pepe The Frog Meme Wallpapers
2019 Pepe The Frog Meme
Best Pepe The Frog Meme Moments
Amazing Pepe The Frog Meme Wallpapers
Best Pepe The Frog Memes
Best Pepe The Frog Meme Themes
Wallpaper Pepe The Frog Meme
How To Remove:
– Click on the icon in the upper right side of your Chrome browser
– Go to the 'settings' option and when the menu appears, click on 'extensions'
– In the given lists of extensions, you should find the one you want to uninstall
– By clicking on the trash icon to the right of 'enable' your extension will no longer be in your Chrome Browser list
Disclaimer Notice
This app is unofficial. The content in this app is not affiliated with, endorsed, sponsored, or specifically approved by any company. All copyright and trademarks belong to their respective owners. In the same way, the images in this application are collected from around the web, if we are in breach of copyright, please let us know and we will remove the images as soon as possible.